The much desired and hard to find Black Giant T-shirt.
I wish I had more. Actually this is the last one. And I had to dig to the bottom of my t-shirt dresser ( I must have 500 in there ) to find this one. I have asked Hammy if he has the black, older shirt. I always gave him Giant shirts to wear on gigs with Black 47.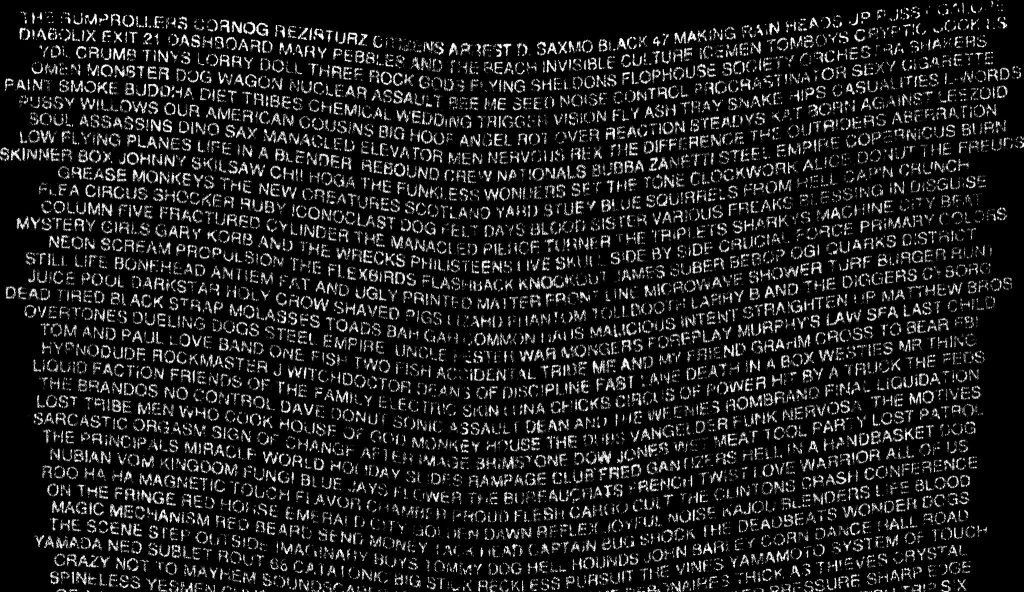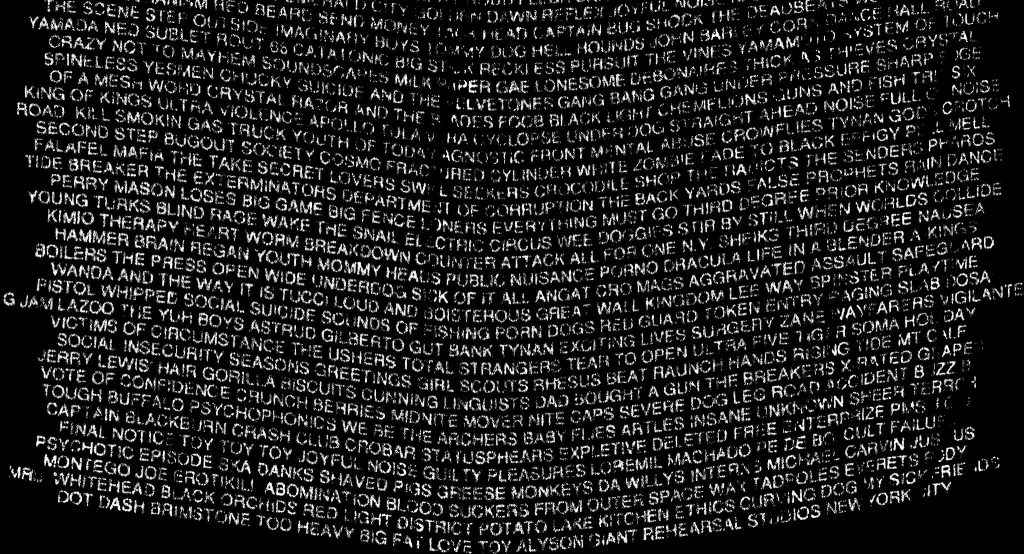 The Band List A-Z from the back of the shirt:
A Kings
Aberration
Abomination
Accidental Tribe
After Image
Aggravated Assault
Agnostic Front
Alice Donut
All For One
All Of Us
Alyson
Angat
Angel Rot
Antiem
Apollo
Artles
Astrid Gilberto
Baby Flies
Bah Gah
Bee Me Seed
Big Fat Love
Big Fence
Big Game
Big Hoot
Big Stick
Black 47
Black Light
Black Orchids
Black Strap
Blenders
Blessing In Disguise
Blind Rage
Blood Sister
Blood Suckers
Blue Jays
Bonehead
Born Against
Breakdown
Brimstone
Bubba
Bugout
Burn
Buzz By
Cahgo Cult
Cap'n Crunch
Captain Blackburn
Captain Bug
Casualities
Catatonic
Chameleons
Chemical Wedding
Chll Hoga
Chucky Suicide And The Velvetones
Circus Of Power
Citizens Arrest
City Beat
Clockwork
Club Fred
Column Five
Common Haus
Copernicus
Cornog
Cosmo
Counter Attack
Crash Club
Crash Conference
Crazy Not To
Crew
Cro Mags
Crobar
Crocodile Shop
Cross To Bear
Crowflies
Crucial Force
Crunch Berries
Cryptic Cookies
Crystal
Cult Failure
Cunning Linguists
Curving Dog
Cyborg
Cyclopse
D. Saxmo
Da Willys
Dad Bought A Gun
Dance Hall Road
Darkstar
Dashboard Mary
Dave Donut
Dead Tired
Dean Of The Weenies
Deans Of Discipline
Death In A Box
Department Of Corruption
Diabolix
Diet Tribes
Dino Sax
District
Dog
Dog Felt Days
Dosa
Dot Dash
Dow Jones
Dueling Dogs
Effigy
Electric Circus
Electric Skin
Elevator Men
Emerald City
Erotikill
Everets Body
Everything Must Go
Exciting Lives
Exit 21
Expletive Deleted
Fade To Black
Falafel Mafia
False Prophets
Fast Lane
Fat And Ugly
FBI
Final Liquidation
Final Notice
Flashback
Flavor Chamber
Flea Circus
Flophouse Society Orchestra
Flower
Fly Ash Tray
Flying Sheldons
Foob
Foreplay
Fractured Cylinder
Free Enterprise
French Twist
Friends Of The Family
From Outer Space
Front Line
Full Of Noise
Fungi
Funk Nervosa
G Jam
Gab
Gang Bang Gang
Gantizers
Gary Korb And The Wrecks
Girl Scouts
Gods Crotch
Golden Dawn
Gorilla Biscuits
Grease Monkeys
Great Wall
Greese Monkeys
Guilty Pleasures
Guns And Fish
Gut Bank
Hammer Brain
Heads Up
Heart Worm
Hell Hounds
Hell In A Handbasket
Hit By A Truck
Holiday Slides
Holy Crow
House Of God
Hypnodude
Icemen
Iconoclast
ICU
Imaginary Boys
Insane Unknown
Interns
Invisible Culture
Jerry Lewis' Hair
John Barley Corn
Johnny Skilsaw
Joyful Noise
Juice Pool
Just Us
Kajou
Kat
Kimio Therapy
King Of Kings
Kingdom
Kitchen Ethics
Knockout James
Lack Head
Larry Band
Last Child
Lazoo
Lee Way
Leeziod
Life Blood
Life In A Blender
Liquid Faction
Live Skull
Lizard
Loners
Lonesome Debonaires
Loremil
Lorry Doll
Lost Patrol
Lost Tribe
Loud and Boisterous
Love Band
Love Warrior
Low Flying Planes
Luna Chicks
L-Words
Machado
Magic Mechanism
Magnetic Touch
Making Rain
Malicious Intent
Manacled
Matthews Bros
Mayhem
Me And My Friend Graham
Men Who Cook
Mental Abuse
Michael Carvin
Microwave Shower
Midnite Mover
Milk Paper
Miracle World
Molasses
Mommy Heads
Monkey House
Monster Dog Wagon
Montego Joe
Mr Thing
Mrs Whitehead
Mt Calf
Murphy's Law
My Sick Friends
Mystery Girls
Nationals
Nausea
Ned Sublet
Neon Scream
Nervous Rex
Nite Caps
No Control
Noise
Noise Control
Nubian
Nuclear Assault
NY Sheiks
Of A Mesh
OGI
Omen
On The Fringe
One Fish Two Fish
Open Wide
Our American Cousins
Over Reaction
Overtones
Paint
Pe De Boi
Peebles And The Beach
Pell Mell
Perry Mason Loses
Phantom Tollbooth
Pharos
Philisteens
Pierce Turner
Pistol Whipped
PMS
Porn Dogs
Porno Dracula
Potato Lake
Primary Colors
Printed Matter
Prior Knowledge
Procrastinator
Propulsion
Proud Flesh
Psychophonics
Psychotic Episode
Public Nuisance
Pussy Galore
Pussy Willows
Quarks
Raging Slab
Rain Dance
Rampage
Raunch Hands
Razor And The Blades
Rebound
Reckless Pursuit
Red Beard
Red Guard
Red House
Red Light District
Reflex
Regan Youth
Rezisturz
Rhesus Beat
Rising Tide
Road Accident
Road Kill
Rockmaster J
Rombrand
Roo Ha Ha
Route 66
Ruby
Runt
Safeguard
Sarcastic Orgasm
Scotland Yard
Seasons Greetings
Second Step
Secret Lovers
Send Money
Set The Tone
Severe Dog Leg
Sexy Cigarette
SFA
Shakers
Sharkys Machine
Sharp Edge
Shaved Pigs
Sheer Terror
Shock
Shocker
Sick Of It All
Side By Side
Sign Of Change
Ska Danks
Skinner Box
Smoke Budda
Smokin Gas Truck
Snake Hips
Social Insecurity
Social Suicide
Society
Soma Holiday
Sonic Assault
Soul Assassins
Sounds Of Fishing
Soundscapes
Spineless Yesmen
Spinster Playtime
Squirrels From Hell
Statusphears
Steadys
Steel Empire
Step Outside
Still Life
Stir By Still
Straight Ahead
Straighten Up
Stuey Blue
Suber Bebop
Surgery
Swill Seekers
System Of Touch
Tear To Open
The Archers
The Back Yards
The Boilers
The Brandos
The Breakers
The Bureaucrats
The Clintons
The Deadbeats
The Difference
The Diggers
The Dubs
The Exterminators
The Feds
The Flexbirds
The Freuds
The Funkless Wonders
The Manacled
The Motives
The New Creatures
The Outriders
The Press
The Principals
The Radicts
The Rump Rollers
The Scene
The Senders
The Take
The Triplets
The Ushers
The Vines
The Yuh Boys
Thick As Thieves
Third Degree
Three Rock Gods
Tide Breaker
Tiger
Tinys
Toads
Token Entry
Tom and Paul
Tomboys
Tommy Dog
Too Heavy
Tool Party
Total Strangers
Tough Buffalo
Toy
Toy Toy Toy
Trigger Vision
Trip Six
Tucci
Tula Vera
Turf Burger
Tynan
Ultra Five
Ultra Violence
Uncle Fester
Under Pressure
Underdog
Vangelder
Various Freaks
Victims Of Circumstance
Vigilante
Vom
Vote Of Confidence
Wake The Snail
Wanda And The Way It Is
War Mongers
Wax Tadpoles
Wayfarers
We Be
Wee Doggies
Westies
Wet Meat
When Worlds Collide
White Zombie
Witchdoctor
Wonder Dogs
Word
X-Rated Grapes
Yamada
Yamamoto
YDL
Young Turks
Youth Of Today
Zane
Zanetti
PHEW!