I still have soundboard cassette tapes of a couple Step Outside gigs from CBs in '86 — the lineup with Paul holding down the bottom, me and Hubel on guitars, and Doug Ryan on drums. (I remember our band changed its name every time we got a new bass player, which was every year for 3 yrs in a row — we changed names more often than we played gigs! We were Sounds of Fishing in year 2, then when Paul joined up, we became Step Outside.)
I have a tape of one gig where Bosco and Fred jump onstage as "The Giant Horns" for an encore cover of Big Fat Love's "Cold Rail"… and you can hear Michael Craig drunkenly yelling when we introduce Bosco.
And we do like a 10 minute version of "One Long Bad Trip", that tune I wrote about my brother dosing the trick-or-treaters with LSD in the halloween candy when I was a kid.
Anybody have any cool recordings of Giant bands? I'd really like to hear any Interns, Boilers, etc. stuff that's floating around out there… (Wacko's got lots of cool stuff up on the Web including some of that old Swiss Army Bass/Johnny Skilsaw stuff.)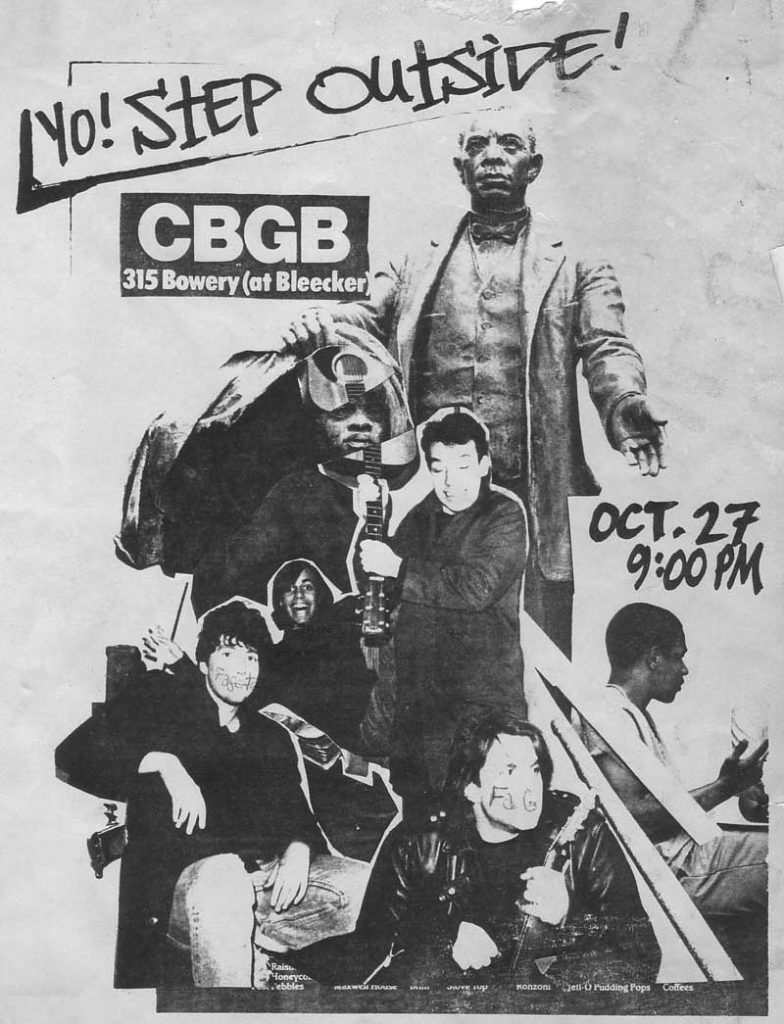 Was that gig the at a giant party at the "Voodoo Club" (off center theater)?? I remember a lot of shit about that night — Da Willys played last. I CLEARLY remember Willie passed out on the floor w/ a 40oz bud clutched in his hand– Rock & Roll baby
ow about the SOF gig at CB's during the world series when I kept running up on stage with updates of the score? I was REALLY drunk that night! You guys are remembering all the great bands, and they were many (My personal fav Scab (previously Cut later to become Scar the all girl speed punk band who's kids sang a rousing rendition of "Reality Street"). But how about the WORST band of all time: Letch Patrol! The lead singer used to have stuff thrown at him and would stage dive and people would jump out of the way so he would fall on the floor. Some punk at the studio said that he used to bring a big old slurpy to all of their gigs, just to throw it at him!
The CBs gig you're talking about was not just any World Series game, but Game 7 of the Amazin' Mets' 1986 triumph of the Sawx. I'm not sure if I have that on tape, but I know we had changed to Step Outside by then, with Paul on the bass. Letch Patrol were indeed right up there with the worst of the worst. And if you wanna talk about cool girl bands, how about the one that started as FRENCH LETTER BANDITS and morphed intpo the very sexy PISTOL WHIPPED. That lead guitar player w/ the bleach blonde hair was awesome, and she had a kind of dark-lady Joan Jett style counterpart who was smokin' hot! Then there was Spinster Playtime… Ahead of the curve on the Lez-rock scene, should be playing with Le Tigre and The Butchies today.
PISTOL WHIPPED evolved into "Everets Body" I recorded them –Oh man..Slone & that red head–
lets not forget the Lunachicks
I remember that night a CB's what a fucking night!!
I remember Ted & I sort of passing out on that brick stuff on that little island across from st. vincents hosp.
I want to do that again sometime
Was Chicken John the main dude from Letch Patrol???